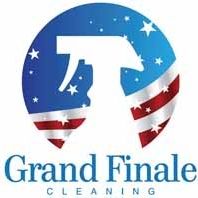 Thank you for all of the wonderful feedback and welcome to the Grand Finale Cleaning Family.
We love to hear what our customers think as much as we love to clean!
---
"Couldn't have gone better"
From the first phone call to ask questions and schedule an estimate to timely & frequent phone updates until complete, our new (old) house is no longer full of options we had to do all or partial services depending on our needs for moving in. We had it all done while on vacation and it was so nice to come home ready to paint and move in. We highly recommend this company for major deep cleaning!! (Fyi regarding price, we had someone else with high Angie's List reviews give an estimate too and it was similar to Grand Finale's, so I do feel their price was reasonable for the job that we wanted done.) Thanks, Grand Finale!!"
~ Sandy Coke 08/15/2018
---
"You are fabulous!"
Dear Grand Finale,
Such an amazing job on my condo! It was in bad shape but now I have some hope that it can be an attractive, inviting and comfortable home. I am amazed at how clean you got the tub! It's actually shiny! The kitchen looks like a different room! You even thought of places to put things. I was wracking my brain and coming up with nothing.
The windows look great! I didn't know they could be so clean. I can see the trees again!
I have decided to have you all come twice a month to keep the clean going. That way, I won't get into that kind of trouble again.
Thanks soooo much! I can enjoy my home again!
~ Teresa Neel
---
"Grand Finale was the one shining star"
"I just wanted to say thanks to you and your team. Yesterday was difficult and we were having problems with a couple of contractor's work. Grand Finale was the one shining star, blessing of the day. Thank you. Appreciate it."
~Kelly Long
---
"Worth every dime"
"This was a surprise birthday gift and everything went perfectly. I contacted Grand Finale on a Friday asking if they could come at a specific time on Tuesday when I was available. DeLisa arrived exactly when I had asked! The crew also accommodated our schedule so that it could truly be a surprise and adjusted her staffing to ensure everything was done in a somewhat short day.
The crew was very professional and polite. When the guest of honor came home, she thought she was in the wrong house;every thing was meticulously cleaned beyond imagine, especially the windows!! They really did a phenomenal job and we are so impressed with the level of detail and effort put in throughout the entire house-baseboards, light fixtures, pictures, you name it! Initially I thought they were a little pricey however, you really do get what you pay for sometimes and I think this was worth every dime. We will be using Grand Finale again! Thanks."
~Heidi York
---
"I hired Grand Finale after I had contacted two other cleaning companies who either did not return my call or simply did not show up for the estimate. Grand Finale, however, was different from the start. Professional, showed up on time, made a list of things to clean, gave a good estimate. Then the cleaning: Perfect. Two cleaners who were super professional and did an amazing job around the house. The truly did the deep cleaning we wanted, spend their time, did not rush, gave the job the kind of attention to detail it needed. It was a delight to work with them."
~Daniel Krebs
---
"They are very thorough and could do anything I needed. The service was tailored perfectly to fit our
needs."
~Whitney Wingham
---
"The entire company is very professional and courteous. I am a clean freak and hard to please but
everything was up to my expectations. I will have them coming to our home once a month to do a full
house clean. I highly recommend Grand Finale!"
~Judith Blum
---
"I recently hired Grand Finale to begin regular cleaning my home every 2 weeks, and I am so glad that I did.  Billie Hayes, one of the proprietors, first came to my home to see what I needed done and to give me in writing the cost and detailed list of things agreed to be done whenever her employee(s) came to clean my house. Billie was very friendly and knowledgeable, and her focus was on how their cleaning company could best serve my specific needs (e.g., my expectations).
My downstairs is not used much and does not get as dirty as the rest of the house, but I still like for it to be clean, too. Billie gave me a price for the upstairs and downstairs entry area, steps, and laundry room,which is used frequently,and I want cleaned good every other week, as well as a price for the infrequently used downstairs (includes family room, kitchen and bathroom).  I really appreciated that Billie said that whenever I wanted the downstairs cleaned, too, I could just tell her employee(s) when they came and to pay the extra amount at that time.
When Rebecca and Heather came to clean my home on August 31, 2015, they did an excellent job and cleaned it spic and span upstairs and downstairs. They vacuumed, mopped, cleaned bathrooms, dusted, cleaned mirrors, etc. They were very pleasant and professional. I worked at home in my office while they enthusiastically and unobtrusively did their work.
I am eager for them to return again to clean next week, as well as every other week indefinitely. Also, if I should need additional cleaning just as windows (inside and outside), cleaning the carpet, cleaning the baseboards, cleaning the chandelier, etc., they are available to do additional tasks  with a quote in advance from Billie as to the specific cost of the requested additional service. I would highly recommend Grand Finale Cleaning without hesitation."
~Constance Buehner
---
"I can't rave enough at how detailed these ladies were with everything from baseboards, vents, the
barware, the pool table felt, pot rack…the list goes on. The house just shines."
~Melody Smith
---